Welcome to the Nourish Hub
The Nourish Hub is due to open in 2021 as a space for the whole community and will see a disused commercial space on Edward Woods Estate, Hammersmith and Fulham, London, come back to life!
The hub will offer a café, serving real, whole food that is freshly prepared. From breakfast to sandwiches, salads, soups & amazing cakes, our delicious meals will be made using the highest quality rescued ingredients, by our team of volunteers and trainee community members. Many of our authentic recipes are inspired by the traditional cuisines reflected in the cultures that surround the Hub.
As part of the London Good Growth Fund, the Nourish Hub is focused on making better places, empowering people and growing prosperity. Challenging and changing our relationship with food, through experience, education and building close links to the local community.
Keep up to date with the latest news from the Nourish Hub



A hub for the whole community!

Where can you find us?
Find us on the ground floor of Swanscombe House, 1 St Anns Road, W11 4SS
Contact us…
Ffion Hayward – Community Education and Outreach Coordinator
Email: info@nourishhub.org.uk
Nourish Hub Partners
The GLA Mayor of London.
London Borough of Hammersmith & Fulham
For more information on the Nourish Hub please get in touch!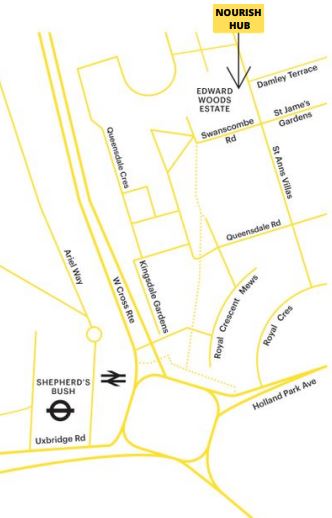 Want to get involved?

Here at UKHarvest we are always on the lookout for volunteers to support us at the Nourish Hub. There is a wide range of activities to get involved in and we want to make volunteering with us as rewarding as possible for those who donate their skills and time. If you are interested please get in touch!