Welcome to the Nourish Hub
The Nourish Hub is now open and serving lunch 12 - 3pm, Monday - Friday.
From the sociable nature of sharing food, to the formal training opportunities afforded via its training kitchen and education programme, the Nourish Hub is a place for communities to come together, eat well and learn essential skills for life.
We welcome the whole community to our hub and offer opportunities for us to collaborate and grow together! You're welcome to use our 'Donate as you dine' scheme, join free classes or volunteer your time with us. Join us for delicious wholesome meals and learn about low-cost, nutritious eating choices. Sustainability and healthy eating are at the heart of our work, from 'rescued' meals to our in-house growing towers, everything you eat and learn will support you and the environment.
We offer a community meal Monday to Friday that everyone is invited to! It works just like your favourite café, except all food is offered on a 'donate as you dine' basis. We offer a delicious vegan and vegetarian menu, simply come along, order your favourite meal and donate to pay.
You can also join our education sessions where we help improve your knowledge and skills around low-cost, nutritious eating choices and minimising food waste. We have a training kitchen and offer regular workshops and cookery classes to upskill your knowledge in the kitchen.
As part of the London Good Growth Fund, the Nourish Hub is focused on making better places, empowering people and growing prosperity. Challenging and changing our relationship with food, through experience, education and building close links to the local community.
Keep up to date with the latest news from the Nourish Hub



A hub for the whole community!

Where can you find us?
Nourish Hub,
Unit A,
Swanscombe House,
1 St. Ann's Road,
Shepherd's Bush,
London
Contact us…
Ffion Hayward – Community Education and Outreach Coordinator
Email: info@nourishhub.org.uk
Phone: 020 7967 1302
Nourish Hub Partners
The GLA Mayor of London.
London Borough of Hammersmith & Fulham
For more information on the Nourish Hub please get in touch!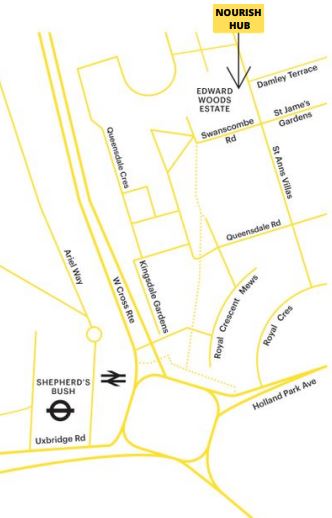 Want to get involved?

Here at UKHarvest we are always on the lookout for volunteers to support us at the Nourish Hub. There is a wide range of activities to get involved in and we want to make volunteering with us as rewarding as possible for those who donate their skills and time. If you are interested please get in touch!