UKHarvest Nourish Hub, London
What is the Nourish Hub?
Nourish Hub is a space for the whole community and will see a disused commercial space on Edward Woods Estate come back to life! The newly refurbished facility will…
Hold a kitchen which will cook and serve meals to the local community on a 'donate as you dine' basis; meals will be made from quality rescued food, tackling food waste in the process
Have a separate teaching kitchen which will be used to run the NourishEd Programmes; programmes educate and empower individuals to make healthy choices and learn cooking skills whilst minimising food waste.
Provide training, volunteer and employment opportunities to local residents and the community
Be a social space for people to work, socialise and be together!


A hub for the whole community!

Where can you find us?
Find us on the ground floor of Swanscombe House, 1 St Anns Road, W11 4SS
Contact us…
Ffion Hayward – Community Education and Outreach Coordinator
Email: NourishEdLearning@ukharvest.org.uk
Call: 01243 696 940
Nourish Hub Partners
The GLA Mayor of London.
London Borough of Hammersmith & Fulham
For more information on the Nourish Hub please get in touch!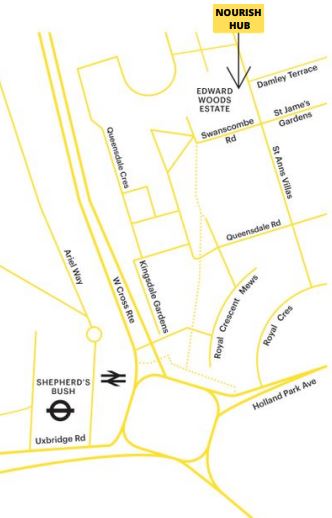 Want to get involved?

Here at UKHarvest we are always on the lookout for volunteers to support us at the Nourish Hub. There is a wide range of activities to get involved in and we want to make volunteering with us as rewarding as possible for those who donate their skills and time. If you are interested please get in touch!