Introduction
January saw the start of our first-ever live cookery course hosted entirely via Zoom! We were understandably apprehensive of how we were going support our group members through a screen, but we need not have worried – it was a huge success!
"We've enjoyed it enormously and have had so much fun cooking together - we are quite sad that it has now finished."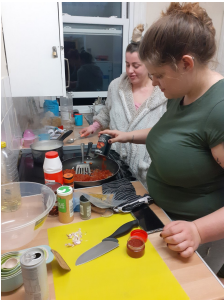 NourishEd Online Cookery Courses
Over the past year, the word 'online' has probably been used in 90% of conversations, with school, work, socialization and shopping (to name a few) going virtual. So why not… we joined in, placing our cookery course in front of a camera so we could continue to educate the community about staying healthy and waste-free at home! From hosting the Hairy Harvests as online cook-a-longs with regular recipes, to weekly group sessions our education programme has certainly adapted to the changing situation.
January's Session!
This course was open to Adur and Worthing residents. We had 10 households with 16 participants in total complete the course. What was brilliant, was the diverse range of ages and backgrounds taking part; from the younger up to the older generation.
"My Granddaughter was very impressed by my Chilli and we both came up with lots of ways we could vary it in future"
What is the cookery course all about?
The aim of this cookery course was to support individuals and families keen to grow in confidence, knowledge and skills. Across the six weeks, we made six simple dishes that were not only delicious, but budget friendly and mindful of time.
Whilst getting stuck in, we discussed and shared ideas around food waste – what can we freeze? What is the difference between a used by date and a best before date? What can I do with bread crusts that usually end up in the bin? We encouraged participants to dig around their cupboards and the back of their fridge, to use up food that might have otherwise gone to waste.
"It was great fun. I learned so much too. I love the format. Teaching us cooking techniques as well as meal staples."
On the menu
Budget friendly cooking is really what we're all about - all the dishes we made were vegetarian, to highlight how eating plant-based meals and less meat can save you money (even if it is just one day a week). Plant based meals often include variety of different colours, providing huge nutritional benefits; more fibre, vitamins and minerals which left participants feeling suitably fueled and ready for their next cook-a-long session!
"I was very doubtful of my Roti bread as I have never eaten it before, but Charlotte and I both agreed it was delicious and perfect as a "spoon" to eat the Dahl, which was perfect. I am enjoying these lessons so much. I am getting more confidence each week."
More than just live cookery sessions
To provide support and information outside of the session, participants were granted free and unlimited access to 'NourishEd Online' – an interactive course with topics covering a healthy balanced diet, the importance of reducing food waste and cooking safely at home. We kicked off each Zoom session with a quiz, testing the groups knowledge. It was a great way to get the group chatting and learning!
"I really enjoyed the quiz's at the beginning"
Top chefs
We understand Zoom can often be a bit clunky; one minute you're in the throws of a conversation and the next someone's sounding like a Dalek. We really must applaud the group for embracing cooking over Zoom, following skills such as fine chopping which obviously is much easier and effective done in person. They really are our Top Chefs which we have had the pleasure of watching grow in confidence and ability, we can't wait to meet them all in person one day!
"Thank you for your team effort in co-ordinating and enthusiastically running the course. I have really enjoyed it and learnt some new recipes and info about food waste. It was ideal timing in breaking up the long haul of a winter lockdown, home working and hone schooling cycle."
Food Waste Action
To read more about our Food Waste Action, click here.
Upcoming events and classes
To get involved in one of our upcoming cookery sessions, click here.
100% of participants rated to course as 'very good' or excellent'